With humor and depth, Gustaf binds together the philosophical and practical challenges of living in a digital society. He has a passion for "the networked organization" and how we can use our new tools to set leaders and employees free.
Over the last 10 years, Gustaf Josefsson Tadaa  has delivered over 300 keynotes around Europe. He's has 20 years of experience as an entrepreneur and have coached business leaders on innovation and organizational development. Gustaf has an academic background in cognitive science, rhetoric, chemistry, law, biomedical engineering and business. He started Makerspark, Stockholms first 3D Print Shop, has been the chair for Young Entrepreneurs of Sweden, and is on the board of Kulturbryggan, a part of the Swedish Arts Grants Committee and co-created Europe's largest self-organized arts festival
Gustaf has, along with his wife Malin Tadaa, created and sold art across the world.
Many use the word "technology" to decribe "everything invented after I was born", but in reality, technology is core to the story of human evolution.

Technology makes us human.


– Gustaf Tadaa
Talks
Gustaf uses storytelling to help us undertand the world and the rapid changes we see around us. Every talk is tailored to the audience, and he regularly covers a wide range of topics. Here are some of the subjects Gustaf often speak about.
The networked organization
How may we grow as an organization in a digital world?
Digitalization has been a blessing and a curse. The same tools that are creating new opportunities to communicate and collaborate are also creating confusion around roles, responsibility, power and decision making.

 

How might companies take advantage of the digital ways of working to increase their pace of innovation and become more effective? How do we work with the emotional aspects of going through a digital transformation? How can we unleash the power of the self-managed organization?

 

With 20 years of experience in participatory culture, from the open source and makerspace movements to live role playing games and Burning Man, Gustaf has a unique perspective on what it means to "lead" in a setting where everyone is leading themselves.
AI or die
How does it feel, now when Artificial Intelligence has taken over the world?
From the moment we wake up, until we go to bed, we interact with Artificial Intelligence in some way. From the music we listen to, or the relationships we nurture, to the food or route we choose – Aal is controlled by AI.

How does power, decision making and relationships in the workplace change when AI enters the scene?When will AI take over completely? Did it already?

Welcome to a keynote talk on, by and with Artificial Intelligence. One last chance for you to see a real-life speaker on stage, before he too is replaced by a machine!
The Metaverse - An approach to living on the internet
What do we know about the next generation internet?
Science Fiction or the biggest trend of the year? When Mark Zuckerberg announced that Facebook would change its name to "Meta", many people could not believe their ears. Could the dreamlike VR world, so long described in books and movies, already be here? In the year that followed, over $177 billion was invested worldwide in this new "technology".

But, what exactly is "The Metaverse"? Is it Virtual Reality, with a screen on your head? Roblox or Fortnight? Bored Ape NFTs or digital Gucci bags? Thousands of actors are fighting to claim this fluffy new word, to make their product fit into the hype. How do we talk about things that have not yet fully emerged? What do we know today about the next generation internet? In the future, will we socialize more virtually than in reality? What does it even mean for something to be "real"?

Gustaf Tadaa takes you on a journey down into the deep philosophical questions that the new technology poses to us. From new markets and innovative customer meetings, to questions of identity and belonging. What does life on the internet look like?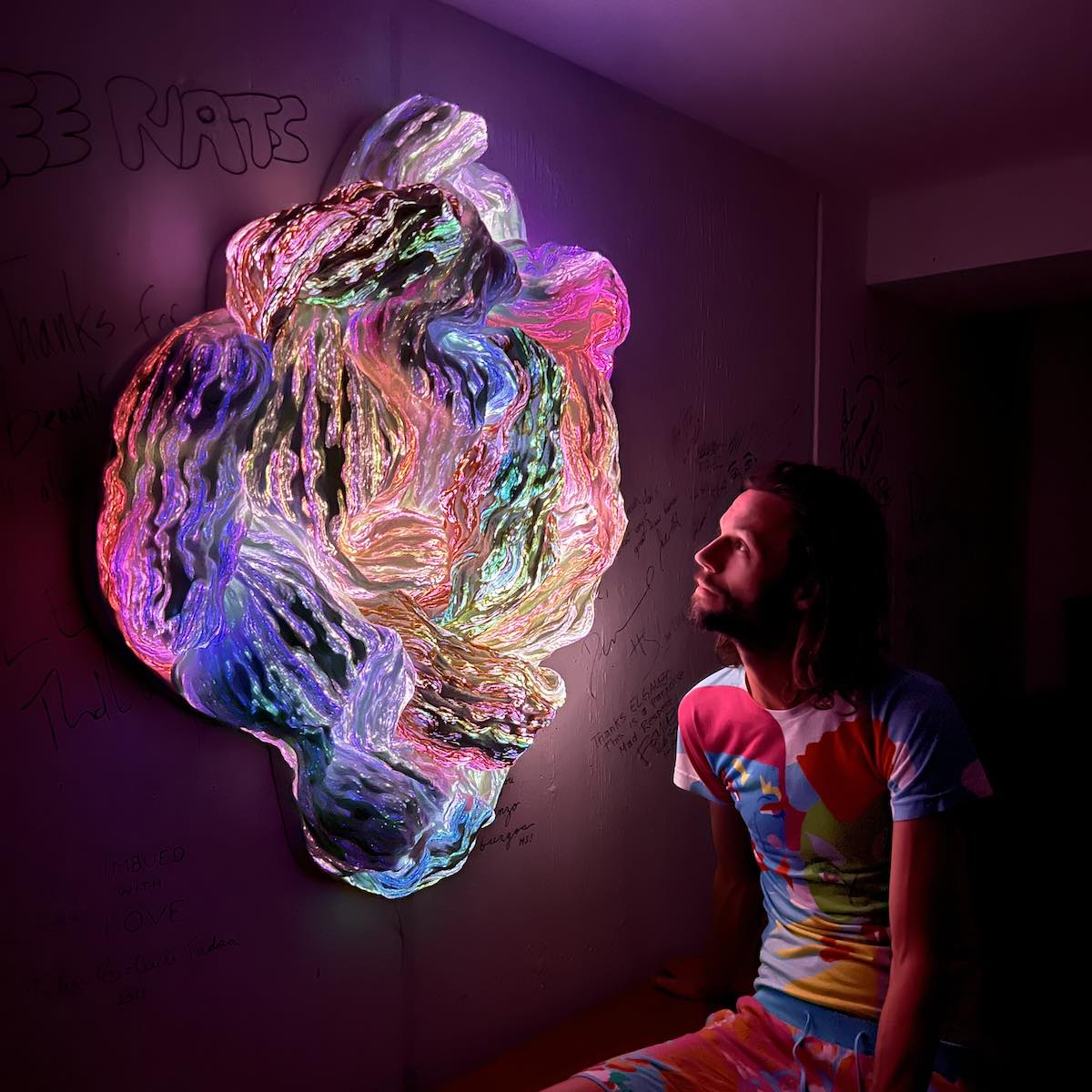 Art, Tech, Love
Can the exploration of new technology bring us closer to each other?
Along with his wife, Malin Tadaa, Gustaf have travelled the world with his their. Using Malin's custom woven optical fibre textiles, along with LED's and microcomputer, they link the physical and the digital. They have used the blockchain to spread religious rituals. They have created tales of evolution using Augmented Reaility in a nuclear reactor 25m under ground. 

In this talk, Gustaf shares his view on how technology can be used to bring us closer to our emotions and closer to each other. He tells the story of his own marriage, and how a family with two small kids travelled around the globe sharing their passion.